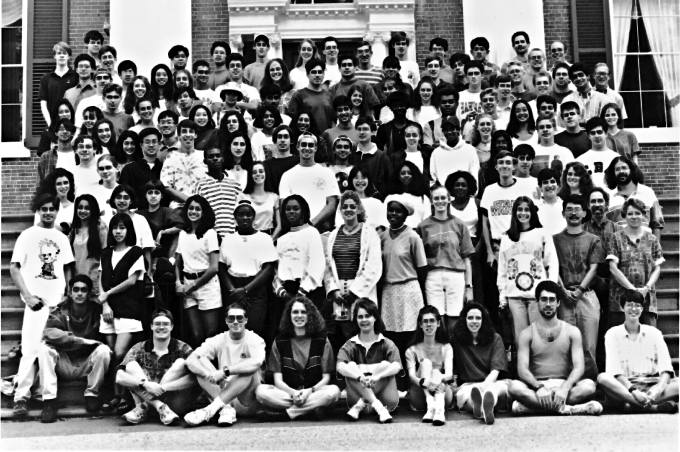 Note from Ed: This is the archive, and hasn't been updated since 1996. But I think I got the crusty newsgroup working again in the last 10 minutes while finishing my last beer before going to work... If people would like to see some more cool stuff here, an interactive editable website or such, now that I am the MASTER OF SERVLETS just e-mail me and if I get enough interest, perhaps I'll clean this place up instead of just ripping it ouf of my closet for all to see...
Humor | Newsgroup | Chatroom | Recent News | Task of the Day | Internet Russian Roulette
AudioNewsgroup | Task of the Day Scores | Personal Mailing list | Feedback | Cheesy E-Mail Archive
Inspiration | Spring Break '96

---
This is the main GSS page. To go to a section of the GSS site, click on the name in the button bar above, or if your browser doesn't display images go all the way down to the bottom and there's one that's only text. The main page has recent GSS news, some less important notices, GSS homepage news and notices, some Task of the Day info, things about mailing lists and finding someone's e-mail address, things about our personal homepages as well as info on how to make one, and some stuff about our chatroom including instructions and help.

---
Welcome to the famous GSS 94 home page! Brought to you courtesy of Ed Peterlin.
Server hours: Noon to 9AM EST, barring Princeton network faliures and server overloads/crashers.
This page DOES change from day to day, and even during the day. Bookmark it and keep on coming...
Last updated 3/1/96 19:17
You are hit number
to the website.

---


The chatroom is back online! Go there now and see if there's anyone to talk to! If not, come back later and try again!

Here's just a little T-shirt picture to bring back old memories...

Instructions on setting up your computer to use the AudioNewsgroup and posting can be found in the Homepage News section below.




The Spring Break is tentatively scheduled for the weekend of Mar. 16-17. Plans are still up in the air, so let's get a move on! Go to the Spring Break page to help us get this thing moving!

Ankur's anti-government page is up and running...make sure you check it out now!




Thanks to Carla's impetus, we have have Son of the Task of the Day. Check out the tasks and the current scores. Hopefully, the tasks will be updated daily.

It seems that the Task of the Day is now dead...RIP?




The Personal Mailling List is up and running for all of you with browsers that support the mailto command (e.g. Netscape, Enhanced Mosaic, Lynx). Use it to send a letter to that person you've just been dying to talk to today!

The GSS Mailing list is up, courtesy of Steph. To send a message to everyone, mail it to gss94@mit.edu.

The GSS Mailing lists have been updated for those people still using their own mailing lists. Get your UNIX mailing list or Eudora mailing list now. Please, do not use these mailing lists for unimportant things...that's why we have the newsgroup! If you need instructions on how to install or update your Eudora mailing list, here they are.

Never thought I'd have to be making a section like this, but the most recent people to jump ship are listed here. The mailing lists on this server and Steph's at MIT are updated to at least the time listed above.




Here's the list of our very own Personal Homepages. I strongly recommend you check out Ankur's site as well as Anuj's addition.

Would you like to have your own web homepage? Well, now you can! If you're college doesn't provide a web server for its students' homepages, I'll put it on here. Contact me if you want specific help for how to write an HTML file, or if you're daring, you can learn HTML yourself. An HTML Editor for the Macintosh is available on the MachineBOHR ftp site, bohr.student.princeton.edu in the pub/mac directory. Pictures, animations, anything can be in it!




The Internet is now the object of US Government censorship. If you want to find out what's going on, check out the page dedicated to the Communications Decency Act. It explains the bill, why this site is now illegal, and has some of your own reactions...

The chatroom is back online. Go there anc chat now.

The first ever Audio newsgroup is here! To use the audio newsgroup, you will first have to set up your machine. Follow this link for instructions on how to set up your computer to use RealAudio. Setting up your computer for RealAudio will take approximately 10 minutes. Once you have your computer set up, then you need to learn how to post, or you can skip that part and just try it out! Learning how to post a sound may take a little while the first time, but after that it's a breeze!

There is an incompatibality with AIFF files encoded with SoundApp (Macintosh) and the AudioNewsgroup. Use SoundHack instead. This program is included in the Macintosh Sound Utilities Installer

The Inspiration page is now online. The Inspiration page (thanks to Steph for the suggestion) is devoted to archiving all of those messages that cheer us up when we're down, and letting you know that you're great just because you're you. Forward any inspirational messages/sayings/pictures to Ed today. Everyone knows we could all use some inspiration.

AudioNewsgroup is now online! See exactly what you need to do to listen to it and how to post to it. This is the first ever audio Internet newsgroup...feel special! Soon the custom client software will be up and running so you won't have to worry about ftp ever again...

A great way to waste some time is the Internet Russian Roulette. Hit it to literally go somewhere...it picks out a random website to go to. I guarentee that you will be sent somewhere completely random, chosen from a list of oddities. If you have a site you want on the list, let me know.

Since all of us are stressing over finals or something else, I've finally come up with a solution to help burn off some steam. All we need is some humor (and a little sex).

The newsgroup now has new options in it that will be displayed for all posts. Post to Newsgroup will now post a message to the newsgroup while Personal response will send an e-mail message only to the person who posted the message.




Anyone interested in organizing a cyber reunion on the chatroom? That is, as many people as the system can hold all log in at one time and talk? Post a message in the newsgroup today if you're interested.

I went back to the old chatroom now that the server is hopefully a tad more stable. Once again, if you are having problems connecting and you're using netscape, here's some help for Netscape users. If you're using another telnet program such as NCSA Telnet or a unix box, here's help for regular telnet users. Once you get connected, you'll have to learn the chatroom commands to use it. Let's see if it continues to work well for us...


---
Humor | Newsgroup | Chatroom | Recent News | Task of the Day | Internet Russian Roulette

AudioNewsgroup | Task of the Day Scores | Personal Mailing list | Feedback | Cheesy E-Mail Archive

Inspiration | Spring Break '96



All of the smut on this page is approved by


This home page is under construction constantly. Send suggestions, jokes, insults to my at my address below. Peace.

Ed Peterlin / peterlin@princeton.edu